Ebay is one of the biggest online markets on the internet. This is where individual sellers or businesses post items online to advertise to prospective buyers. In theory Ebay is like an online auction where people bid against each other to win the item they desire. Sellers can stick a fixed price or a best offer option on their items if they do not want an online auction.
A listing may appear like this;
 Credit; http://oldclassiccar.co.uk
A buyer on Ebay does not incur any cost against him/her. To find the item you want on Ebay just simply click the search bar and type the name of the item, Ebay offers a list of categories which you can choose from also to narrow down your search. A tip to get the item you want on an auction is to wait for the final seconds and then place a bid to ensure you win the item.
Be careful when buying products on Ebay as a lot of products on the website are actually fake. Do your research before purchasing anything majorly expensive, if something seems too good to be true it usually is. There are however a lot of good quality cheap products on Ebay and we highly recommend using it for shopping for bargains. Ebay do offer a resolution service where issues can be dealt with, their customer support is very good.
A seller on Ebay does have various costs against them. Ebay has something called seller fees where they take around 10% of the final price of your item. They also charge listing fees which are usually small and have recently started taken money from postage fees. Buying and selling has now become less profitable with such a high percentage of your final price going to Ebay. If you use Paypal (most common form of payment on Ebay) then you will further incur more fees.
You can put reserves on your item to ensure you get a good price for them. Pictures may be displayed and a good detailed description is highly recommended to attract more custom. Having an account on Ebay allows you to use the buy/sell feature along with adding items to your watch list so you can keep track of them.
MyEbay also allows you to see items you have won, selling and currently bidding on. It is essentially a homepage where you can check everything you have done recently.  When buying/selling items it is essential to keep a good reputation as Ebay has a positive feedback system which is calculated in percentages. For example if you have 100 percent reputation and get one bad feedback your overall feedback co0uld be as low as 96% depending on how many items you have bought or sold in the past. You also gain stars which goes up the more items you buy and sell.
The feedback system looks similar to this;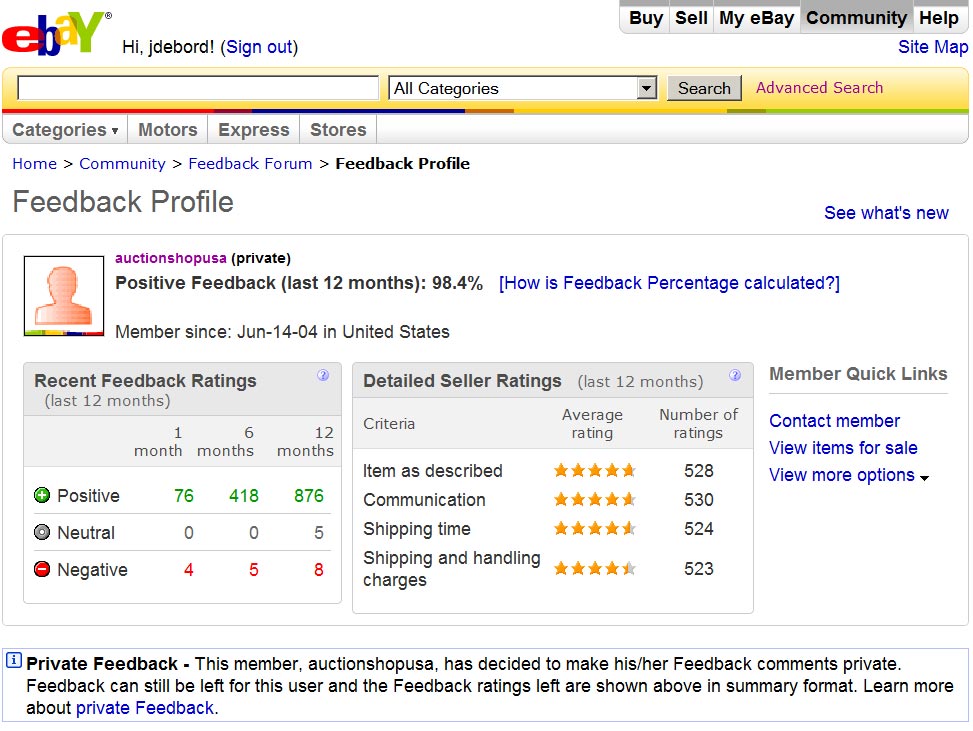 If you need any more help, pop into the store and we will help you out.